Bernese Mountain Dog Guide
Interesting Bernese Mountain Dog Facts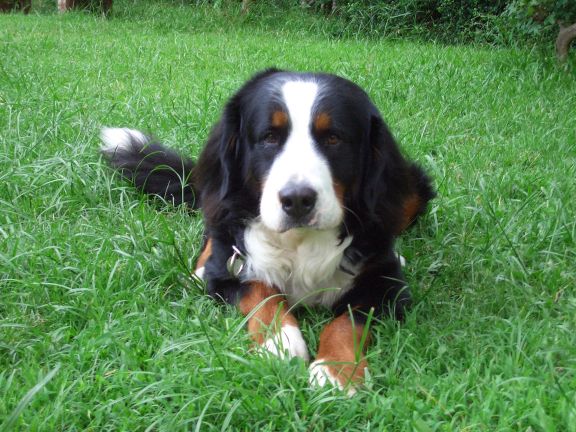 The Bernese Mountain dog came from Switzerland where it is known as the Berner Sennenhund, which when translated means Bernese Apline Herdsmen's Dog. The Bernese Mountain dog throughout history worked as draft dogs, watchdogs, and drovers in many farmlands of the canton of Berne.
Proud Bernese Mtn Dog Showing Off Her Pups
Buy this Art Print at AllPosters.com
Roman soldiers are thought to be the first to bring the Bernese Mountain dog to Switzerland more than 2,000 years ago. In 1926, the Bernese Mountain dog was brought to the United States and joined the AKC "Stud Book" in 1937.
Mountain Dog Pups
Buy this Art Print at AllPosters.com
Thinking of getting a Bernese Mountain Dog of your own?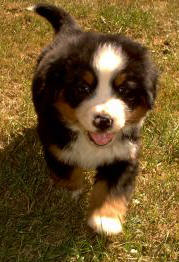 The Bernese Mountain Dog was used in Switzerland to pull milk and cheese carts and also to drive herds of cows. He is a large and friendly dog.

Grooming every two weeks at least every two weeks is recommended. They do require just moderate exercise, which makes for a wonderful house dog. He will love to go with you or the family everywhere. The Berneses Mountain Dog is devoted and faithful dog to his family.

What does a Bernese Mountain Dog look like?

The Bernese Mountain Dog is a handsome, large, tri-colored dog. He is very strong and sturdy. He is intelligent and quick enough to do all the farm work his ancestors did in Switzerland. Even though they look masculine in nature, you can definitely tell the females from the males.

Bernese Mountain Dogs are slightly longer than they are tall. When measured from the withers males are 25 to 171/2 inches; females are 23 to 26 inches. They have sturdy bones and their body is full.

The Bernese Mountain dog has dark brown eyes which are slightly ovaled. Their ears hang close to the head and are triangular shaped, set high on their head. Their nose is always black. The lips are clean and are a dry-mouth breed. Their teeth meet in a scissor bite.

The coat of the Bernese Mountain dog is thick, somewhat wavy or straight, and the length is medium.

The main color of the Bernese Mountain Dog is jet black; the markings are a rich rust and white. The rust color is over each eye, on the cheeks, on each side of their chest, on all four legs, and under their tail. They have a white blaze and a muzzle band. The tip of tail is white. The white on the chest usually forms an inverted cross. These are the markings that are preferred and other colors or markings are considered to be defaults.

The Bernese Mountain Dog has a self-confident air, are very alert and always good-natured. They are never cross or shy. Around strangers they may stay aloof.

The Bernese Mountain Dog would be an excellent choice for a family dog.
Bernese Mountain Dog Rescues in the UK
Bernese Mountain Dog Club of Scotland Rescue
Mrs A Wilson, Hareshaw, Cleland. Tel: 01698 860298
Bernese Welfare
Jude Simonds, Sudbury, Suffolk. Tel: 01787 371940
Email: bernerinfo@aol.com
Northern Bernese Mountain Dog Club Rescue
Mrs L C Stephenson, Newton Aycliffe, Co Durham. Tel: 01325 315882
Do you own a bernese mountain dog? If so, we'd love to put their picture up here on this page so people get to know what they look like! Simply click on
Send us your bernese mountain dog pictures!