Boxer Dogs & Pictures
Everything you want to know about Boxer Dogs - Boxer Puppies, Boxer dog Pictures, Boxer dog Training and more!
A Boxer dog is a medium sized dog with a compact and robust body, they normally have two tone fur colors, normally in brown and white.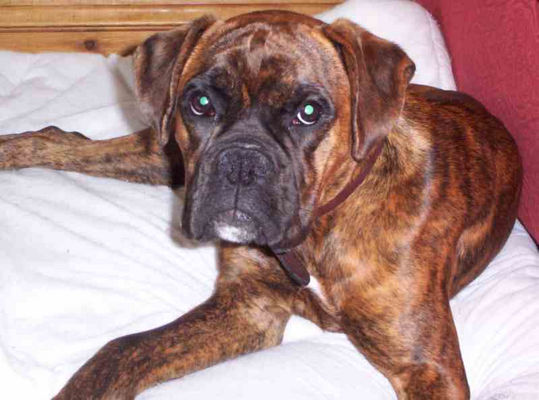 Boxers Are A Working Breed
Boxer dogs are hardy dogs and have very high stamina and a docile temperament, not that they canít fight back if they need too. They are always young at heart but if you own a small house they can get up to a lot of mischief and knock things over.
..It is important when buying a puppy or choosing one from a rescue, that you donít just pick the boxer dog that looks the cutest. Make sure to check the condition of the other pups and the parents as well as other animals in the area to check for signs of disease or abuse.
Boxer Dog Breeders
Boxer dog breeders will probably ask you some questions and you should be prepared to answer them well. They will often ask you how big your house is, how long will the dog be left alone and how often you will walk it. Other things to remember are that female boxer dogs are often more aggressive then their male counterparts and are much more likely to start fights although normally boxers are docile.
What Boxer Dogs are best known for!
Boxer dogs are renowned for their jumping and playfulness, if when your raising your puppy this becomes a problem you might wish to attend obedience classes to make sure your Boxer dog is well behaved. This is a big issue for older people who may not be able to control a lively and active Boxer dog. There are not many genetic health problems associated with Boxer dogs, however they are prone to epilepsy and the common dog Dysphasia which affects their hips. Boxer dogs can also drool, which can be messy, but also suffer from excessive flatulence, especially in old age.
Overall boxer dogs make excellent pets as long as you have the time and space to make sure your Boxer dog is kept fit and healthy and loved. Boxers, like any other popular breed can suffer with varied health problems which could end up being expensive. The solution would be to get dog insurance to cover any potential health problems your new boxer dog may have.
The boxer is a hardy dog full of stamina, not quick to pick a fight, but more than able to defend themselves if they have to. They remain puppy like throughout their lives, making them quite a handful, and unintentionally creating havoc where they go. They can be very destructive if they are left alone at home for long periods of time. They love busy households and are commonly found in hotels and guest houses, where there is a lot going on around them.
Boxer Dog Pictures :: Boxer dog pictures page 2 :: Boxer Dogs page 3 :: Boxer Dogs Home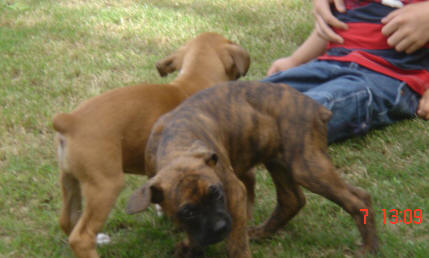 Send us your pictures of your boxer dog(s) and we will put them up on the site! Simply email us with the picture at: matthewATdog-pictures.co.uk (replace the AT with the @ sign!)
Rescuing a Boxer dog should be a first choice for anyone experienced with this breed there are a list of boxer dog breed rescues here