Cross Breed Dogs
On this page are pictures of cross breeds if I am told what they are crossed with it will say above or below the photo, if you think you know what breed of dog the dogs may have "in them" then please do let me know!
I found a mother dog, a full blood wheaton terrier, all white, with three pups. They were all at a discount food store in Fort Worth, Texas. In the loading dock area.
The pups were different than the mother, one was rusty colored and the other two black with a little white here and there. The dogs had obviously been dumped and been living on the streets a while.
The mother dog looked to be a former show dog, but not sure,she was friendly and wiggling her tail when I walked up to the loading dock area where they all were together in a little family pack. The mother dog barked a little when I got closer, but then soon licked my hand and welcomed me to view her 3 pups.
They were all covered with fleas and were in pretty bad shape but I loaded them in my car anyway. It was the last thing I needed at my home, but I am a stray dog magnet.
The people in the loading dock area of the store said the mother and 3 pups had been dumped there for awhile and that nobody feeds them so they ate what they could I guess.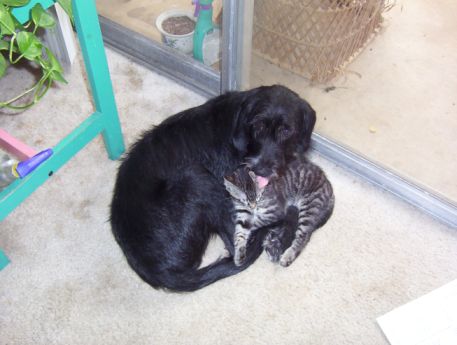 I later found out they would eat paper, they were obviously eating anything they could find on the streets. I found all the dogs good homes except one. He stayed with us.
He is called different names, still haven't figured out the perfect name for him. Dorkus Humongous is what my husband calls him, dorkus for short.
Because he is so goofy and funny acting and has grown to be a big pup in the few months we have had him. We also ended up with a kitten named Syd and he was pretty young when we got him, maybe only 6 weeks.
Dorkus and Syd immediatly bonded and are best friends. I saw your site and pictures of the Irish Wolfhound and I am convinced that this is what we have, mixed with the Wheaton Terrier mother.
Looking at some of the pics is like looking at our Dorkus Humongous. While graceful running, he is like a bull in a china closet inside the apartment. I think we need a big backyard now.
Cross breeds are cool and are supposedly meant to live longer than pedigree dogs.. My dog Molly is a staffy crossed with something.. having said that I've just had to claim over £200 with the dog insurance company I use.. so if you have a cross breed do think seriously about insuring your dog!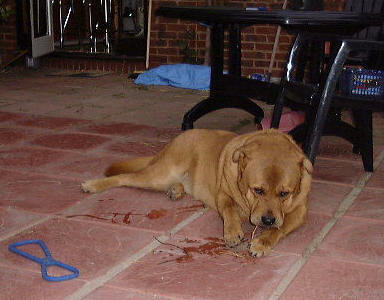 Above: Senshi & Sumo, they are Japanese Akita/Rottweiler crosses, 18 months old twin brothers. We call them the Ronnie & Reggie because it's like taking the kray twins for a walk, especially when they see another dog. Picture 28 is Senshi sunbathing, and picture 29 is Sumo giving me the "look" which is his way of daring me to take away what he's chewing. Brenda
Below: Yaz, a 4.5 yr old Collie/Spaniel cross