Shiba Inu - Guide
The Shiba Inu has an alert noble look on whatever he gazes upon. This lends him an air of dignity and beauty. He is good natured, intelligent and rather curious about everything around him.
He is rather independent and much like a cat will usually not come to you when called. When around strangers he is at first aloof but then usually warms up fast. Shibas are affectionate with members of their own family and people whom they trust and respect.
We welcome any additions to this description of this lovely dog breed. Please, let us know! Click here!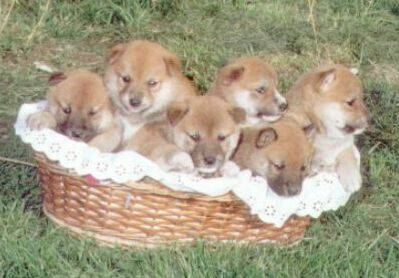 Comments from proud Shiba Inu owners
"We have had a Shiba Inu for about 6 years. We got our Sheeba when she was a puppy. She has been a great dog. She was easily house broken, and sits well, but any trick training was a waste of time, as she didn't want anything to do with it. She is very home protective (howling and licking anyone who comes in the door), although when someone comes close to her fence line she barks and backs away. She has been a very good dog but would have been better without the semi-annually shedding. The girls weight about 18-21 lbs and the males weigh about 22-27 lbs. The biggest male recorded is 29 lbs. They are smaller versions of Akitas. They LOVE the weather. Sheeba loves to play in the rain and snow. She would spend all day outside if we let her. "
" Our female (Shiba Inu) loves it when her pack is home alone. When other 'humans' are visiting, she gets very needy and wants to be very close to us, and will actually get up on the chair with us. Of course, she just tolerates our affection and will allow us to hold her if she is in the mood. This independence is an advantage, as she can be left alone for long periods of time."