Pitbulls & Pit Bull Pictures
Pit Bull dogs are known for their powerful and sleek bodies and a large head. They have a large square head, their eyes are clear and can be any colour.
Traditionally Pit Bull dogs had their tails cropped, although this is no longer encouraged, several registering companies will not register dogs with cropped tails.
Pit Bull dogs have rather large floppy ears, and a large nose which can be any colour. Their coat is normally very short, and can be practically any color.
Pit Bull dogs have had a lot of bad press recently, although their temperament is not naturally one of aggression towards humans.
Pit Bulls & Humans
Pit Bull dogs are normally gentle and well mannered to humans, although when other dogs or wild animals are in the area, these dogs can become a bit of a handful. This aggressive behavior can be curbed if proper training and socialization is made from when the dog is a pup. A pit bull is not a breed to take lightly, nor should training the dog from puppy to adult stages and beyond.
They are extremely loyal. As long as Pit Bull dogs are trained properly, then there should not be any problems with keeping these dogs as pets. Most pit bulls are dog agressive expecially with same sex dogs, it takes a very experienced owner to handle more than one and it should never be taken for granted that they will not attack another dog in the family.
Common Problems in The Pit Bull
Pit Bull dogs have few common diseases: Hip Dysplasia and cataracts
Pit Bull dogs normally live to be 12 years old, and can weigh from as little as 14 kilograms up to 45+ kilograms, although these larger dogs are often cross breeds. When exercising Pit Bull dogs it is important to keep them on a leash whenever there is a chance that they will meet other dogs.
Here are a collection of pit bull pictures kindly emailed to us from devoted and caring pit bull owners:
Below is Sasha, a pit bull born on Halloween 2003 (ooh!). She is very much loved and is great with the owners 2 kids.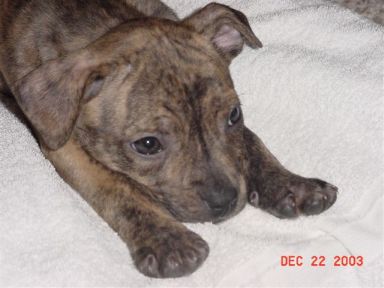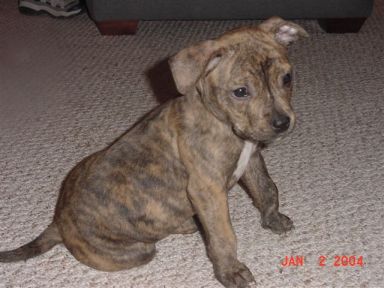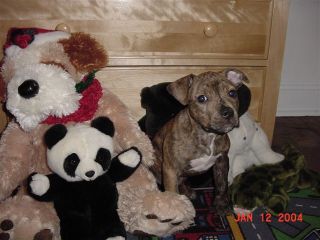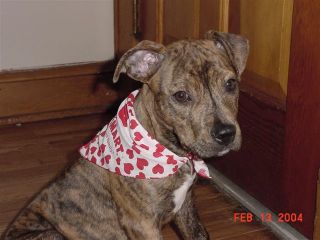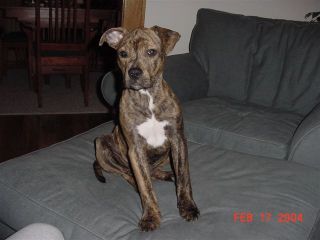 Ozzie, Pit Bull from South Africa "Friendliest, most loving even tempered dog I have ever known" -Justin.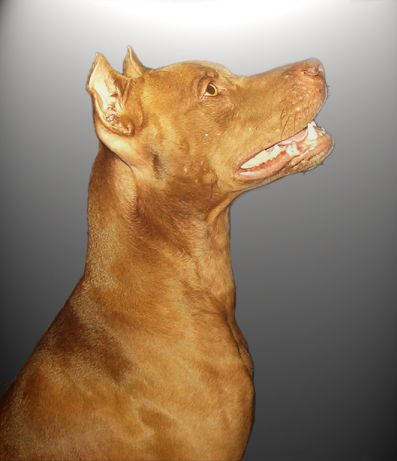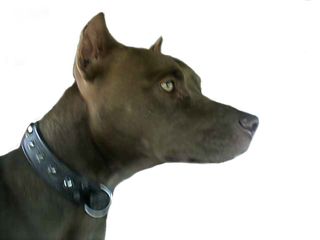 This is Damian, a 9 month old Pit Bull Terrier: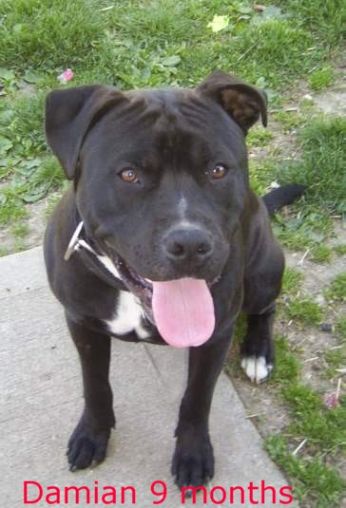 This is Reign (below), a 13-month old purebred Pit Bull: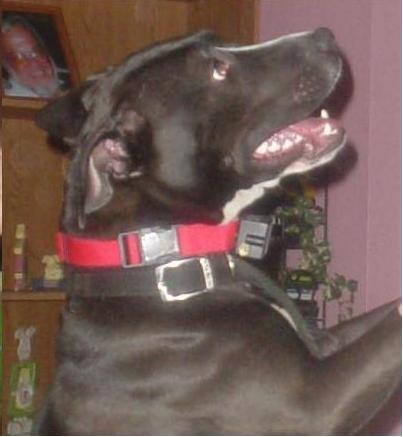 Pit Bull Puppy standing ...Awww isn't this one a sweetie!!

This is Maggie, a 2-month old Pit Bull " I am a new owner of a 2 month old Pit named Maggie. She has been the sweetest and most loving dog that I have ever had. This picture is from when I first got her; she is growing like crazy now though. Iíll send more pictures when she gets a little bigger. -Travis":