...Newfoundlands p2
The picture was painted in 1838, and, as almost everyone knows, represents a white and black Newfoundland. The dog portrayed was typical of the breed, and after a lapse of over seventy years, the painting has now the added value of enabling us to make a comparison with specimens of the breed as it exists today.
Such a comparison will show that among the best dogs now living are some which might have been the model for this picture. It is true that in the interval the white and black Newfoundlands have been coarser, heavier, higher on the legs, with an expression denoting excitability quite foreign to the true breed, but these departures from Newfoundland character are passing away--it is to be hoped for good. The breed is rapidly returning to the type which Landseer's picture represents--a dog of great beauty, dignity, and benevolence of character, showing in its eyes an almost human pathos.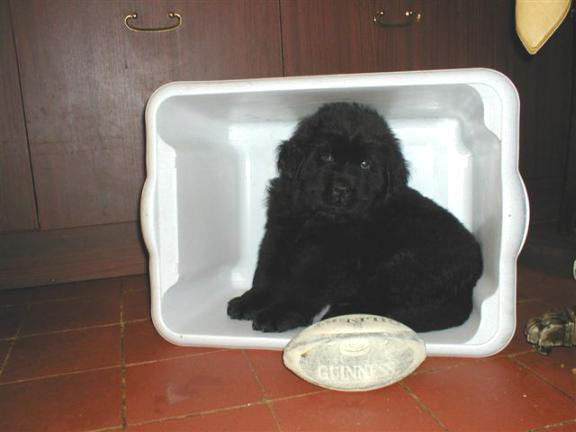 Some twenty-five to thirty years ago there was considerable discussion among owners of Newfoundlands in this country as to the proper colour of the true breed, and there were many persons who claimed, as some still claim, that the black variety is the only true variety, and that the white and black colouring indicates a cross-breed.
Again Landseer's picture is of value, because, in the first place, we may be almost certain that he would have selected for such a picture a typical dog of the breed, and, secondly, because the picture shows, nearly half a century prior to the discussion, a white and black dog, typical in nearly every respect, except colour, of the black Newfoundland. There is no appearance of cross-breeding in Landseer's dog; on the contrary, he reveals all the characteristics of a thoroughbred. Seventy years ago, therefore, the white and black variety may be fairly considered to have been established, and it is worthy of mention here that "Idstone" quoted an article written in 1819 stating that back in the eighteenth century Newfoundlands were large, rough-coated, liver and white dogs.
Continued to: Newfoundlands 3