So You Think You Want a Bull Terrier?
Can you afford it? For a healthy well-reared Bull Terrier puppy you should be prepared to pay approximately £600 pounds. Then there will be the cost of vaccination say, another £30 to £40 pounds.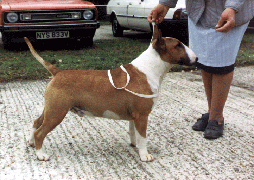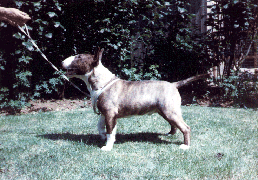 Food will cost you at least £2.00 per day (less when your dog is fully grown) and you should allow for your vet's expenses, including annual vaccination.
The cost of veterinary fees is very high and Medical insurance is advised, another £80 to £100 Per annum. And, what about the damage any Bull Terrier will wreak, especially during teething? - A new three-piece suite – re-upholstering the car (including a new steering wheel!), the loss of those new rose bushes!
If you can still afford it, there will also be the occasional holiday without your beloved Bully. Boarding in reliable kennels cannot be cheap – allow at least £6.00 per day.
Have you the patience?
This breed can be so trying, especially after a busy day at the office, when you have lost your best client. Or, when it rushes in, putting mud all over the new carpet. Or, jumps and grabs Great Aunts wig and shakes it to death, runs with fiendish glee in to the compost heap! Or, knocks your four year old in to the mud, just as she is ready for that first big party.
Have you the temperament?
The Bull Terrier is very strong-willed and sensitive, but requires firm but quite handling.In common with many terriers they are not averse to fighting with other dogs and they must be kept under control. It is a breed that thrives in an environment, which is well disciplined and placid.
Does all the family want a dog?
Too often Mum gets pushed into having the dog in order to please the rest of the family – and then, when the novelty has worn off, she is the only member of the family who is prepared to provide all the care! You must ALL want a Bull Terrier and be prepared to convince the breeder that this is the truth.
Will you be a responsible owner?
An adult Bull Terrier is strong and vigorous and can be intimidating to strangers. They should never be allowed to run wild, terrorising other dogs and their owners. As with any breed of dog, they must not be allowed to annoy or inconvenience others. It is not given to all dog lovers and even to those, very few to enjoy the love of a Bull Terrier.
SUMMARY
Only get a Bull Terrier after considering all the facts. Getting any dog is an important decision, which should not be taken on impulse. Deciding to get a Bull Terrier can be the high point in the life of you and your family – or a total disaster.