DogToys.com Review
DogToys.com is a dog store specially catering to dogs who luurrvv dog toys! As you can see from the screenshot below, Dogtoys.com is a simple and fun site, making extremely easy to navigate and order!
DogToys.com does it best as the web's first online pet supply store, it celebrates 5 years serving the Internet shopper!... Some of it's offers include:
The best prices on Greenies Dog Chews at DogToys.com
DOG-OPOLY Game at DogToys.com: DOG-OPOLY's Real Estate is arranged by dog breed. Game TOKENS INCLUDE Mailman, Dog Bowl, Fire Hydrant, Flea, Cat, Steak...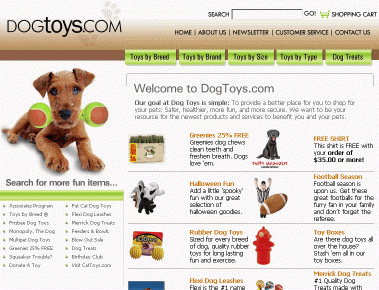 FREE Shipping when you purchase a donated dog toy. DogToys.com customers receive free shipping when they donate a dog toy. Instructions are included on donation page.
DogToys.com features Toys-by Breed selected especially for your breed of dog. DogToys.com's Toys by Breed shopping.
DogToys.com Overall Rating 9/10 - Highly recommended!
If you would like to add your comments or reviews about DogToys.com please send them our way using our contact page.