Review of Petplanet
A lot of people in the UK are searching for somewhere to get dog supplies, dog food, dog treats, dog beds, dog crates, the list goes on and on.
Ideally they want to pay less than they would going to their local pet shop. Looking online for all the above on google you'll more often than not find petplanet . This is a review of what I've personally experienced the good and the bad about their online pet shop, their customer service, ease of ordering and navigation etc.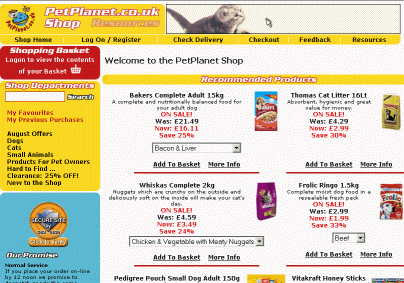 Ok, where to start? Upon entering the Petplanet website I found it generally easy to find what I was looking for, I was looking for some kong dog chew toys for my Alaskan malamute dog as he's a prolific chewer and needed something to "get his teeth into" so to speak. I found what I was looking for fairly quickly, the descriptions of the dog toys were short and simple without any hype, which was refreshing! I also found that the links along the top of the site were very informative as well with information on dog rescues, dog breeds, dog information and more, which was fun because it was light but informative. But this did take my mind off of buying stuff so from their (Petplanet's) point of view it is a distraction.
Once I was back on track I added the items I wanted to my shopping cart by simply clicking on the "add to cart" icon... This is a little pet-peeve of mine as one can get very confused with the "shopping cart" way of ordering, even me! All this add to cart, review cart, checkout, check in, to some people it looks very American, and can be a bit off putting...
Fortunately, Petplanet has made it very simple and easy to understand when you've "added something to your basket" and when to actually add your payment details, which is also nice and quick for everyone.
The next step was registering which was a bit lengthy and boring adding all my details (like name, address, email, payment information, etc) it seemed to go on and on. Good for Petplanet though, as once you're registered you can go directly to order more dog toys (or whatever dog stuff you were looking for) or finish shopping and log off. Simple.
What happens next is you get an email confirming your order. This is where I got a bit of a surprise... But a pleasant surprise! Bad news was that they were out of stock on a black dog harness I was after for my dog, but the good news is that their customer service phoned me up to let me know, and they asked me if I would like it in another colour. I said no, but afterwards I thought, WOW! I've ordered a lot of stuff from the internet but Petplanet must have been one of the first companies to actually call me back -- What customer service! I was impressed.
I actually bought 3 kong chew toys, and 1 other chew toy a Cyber Bone (the latter didn't last 5 minutes and was chewed to bits, so much for tough and resistant, was that for a spider???), but the kong chewies are still all intact and he hasn't lost interest in them at all, which is great cos the rugs don't get eaten and he has something to keep his interest while I'm at the computer. They took a few days to arrive (2-3 days I think). I received a nice little receipt along with the goods in a large cardboard box.
Overall, I think if you are looking for an online pet shop with many good products for dogs (they serve cat owners and small animal owners too) at a reasonable price (including delivery) and excellent customer service then Petplanet could be a great option for your dogs' needs. I would suggest you give them a try above most other online pet shops in the uk.
Overall rating: 9/10 - To find out more about Petplanet, Click here

Or, you could browse the Dog Toys pages!
If you would like to add your comments or reviews about Petplanet.co.uk please send them our way using our contact page.