Newfoundland Dog Pictures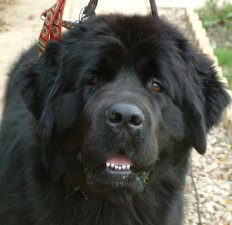 Author: Robert Leighton
The dogs which take their name from the island of Newfoundland appeal to all lovers of animals, romance, and beauty. A Newfoundland formed the subject of perhaps the most popular picture painted by Sir Edwin Landseer; a monument was erected by Byron over the grave of his Newfoundland in proximity to the place where the poet himself hoped to be buried, at Newstead Abbey, and the inscription on his monument contains the lines so frequently quoted:
"But the poor dog in life the firmest friend,
The first to welcome, foremost to defend,
Whose honest heart is still his master's own,
Who labours, fights, lives, breathes for him alone.

To mark a friend's remains these stones arise:
I never knew but one, and here he lies."
Robert Burns, also, in his poem, "The Twa Dogs," written in 1786, refers to a Newfoundland as being an aristocrat among dogs. Doubtless, other breeds of dogs have been the subjects of popular pictures and have had their praises sung by poets, but the Newfoundlands have yet a further honour, unique amongst dogs, in being the subject for a postage stamp of their native land. All these distinctions and honours have not been conferred without reason for no breed of dogs has greater claim to the title of friend of man, and it has become famous for its known readiness and ability to save persons in danger, especially from drowning.
It is strong and courageous in the water, and on land a properly trained Newfoundland is an ideal companion and guard. Innumerable are the accounts of Newfoundlands having proved their devotion to their owners, and of the many lives saved by them in river and sea; and when Sir Edwin Landseer selected one of the breed as the subject of his picture entitled, "A Distinguished Member of the Humane Society," he was justified not only by the sentiment attaching to this remarkable race of dogs, but also by the deeds by which Newfoundlands have made good their claim to such great distinction, and the popular recognition of this, no doubt, in some degree added to the great esteem in which this painting has always been held.
Continued here: Newfoundlands 2