Bulldogs - More information on the Bulldog Breeed
This bulldog page aims to provide visitors and bulldog owners/potential owners with free bulldog pictures, along with background information on the Bull dog breed.
Thinking of Getting a Bulldog?
If you are thinking of getting a Bulldog, good for you, but don't ever get one as a present for someone else. Nothing beats talking to responsible bulldog owners and going to see a family of bulldogs first hand, not only to see how "cute" they are but also to get the different perspective of everyday life and finding things out that might put you off, if for example you don't know how much a dog can drool over your nice new carpet or rug after having a drink of water!........
Bulldog at Rest Kaye, Paul Find Bulldog Art here
Chihuahua Seated on a Bulldog See more Bulldog Canvas transfers here
--So: read all the books and do all the hands-on research you can on this beautiful and elegant breed before committing to something you can't go back on!!
The Bulldog is unmatchable in temperament. This is a family dog that loves children and will even learn to get along with other pets and dogs if introduced to them at an early age.
The Bulldog is a bit too friendly to be a good guard dog but would defend a family member in need. Bulldogs can be peaceful, pensive, goofy and have a well developed sense of humour.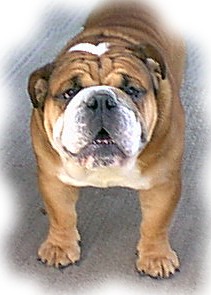 ---

Bulldogs: An Owner's Companion
A guide to owning a bulldog. Topics covered include: choosing a puppy; care, management and breeding; holistic medicines for prevention and cure of ailments; and showing and judging. It traces the bulldog's origins and compares the conformation of the bulldog in its early years to today's standard.